Jetzt hat sich die schlimme Nachricht bestätigt. Heute ist der Schlagzeuger der Crystal Fighters verstorben. Jetzt verriet die Band Details zum Tod ihres Freundes.
Als wir heute ein wenig nach unseren Musiklieblingen
Crystal Fighters
stöberten, stellten wir überrascht fest, dass viele Fans und Freunde spontan
über Facebook Abschied nahmen
, und zwar vom
Schlagzeuger der Crystal Fighters, Andrea Marongiu
.
Alles deutete bereits darauf hin, dass der sympathische Italiener in sehr jungen Jahren verstorben ist. Jetzt haben wir allerdings traurige Gewissheit:
Die Crystal Fighters bestätigten über Facebook und Twitter den Tod des Schlagzeugers.
Dear Friends and Family of Crystal Fighters, It is with deep regret and great sadness that we announce the tragic passing of our drummer and friend, Andrea Marongiu. Andrea was not only one of the most brilliant, skilful and charismatic drummers to have ever graced the stage, but also an incredibly kind, fun and loving friend to us all. Our condolences go out to anyone who was lucky enough to have known him, and most particularly to his family. We are all completely heartbroken by this news and we can't hold back the tears as we write this message to you. Andrea, thank you for all the incredible joy and life you brought to this band and to our lives for the last four years. We love you and we miss you more than words can say right now. Buon viaggio amico. With love always from Sebastian, Gilbert, Graham, Ellie, Nila, Clarissa, Mimi, Laure and all CF crew. Life will never be the same without you here brother xxx
Für uns ist es ein großer Schock, besonders weil wir ihn vor Kurzem noch LIVE auf dem Berlin Festival erlebt haben.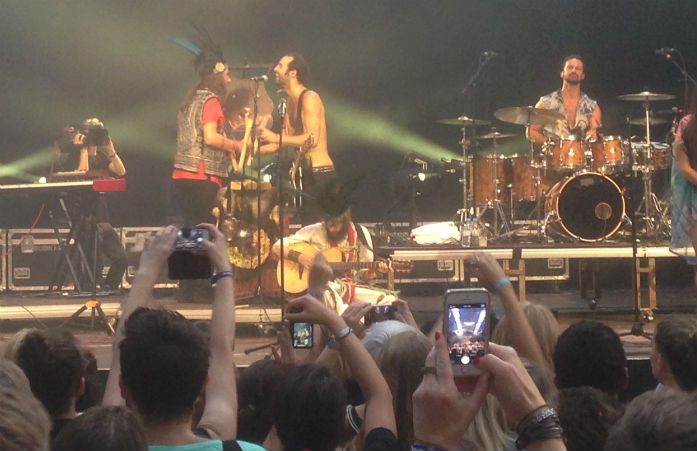 UPDATE:

Die Band hat jetzt die Details zum Tod ihres Drummers preisgegeben: Ein nicht bekanntes Herzleiden setzte Andreas Leben ein frühes Ende. Nach seinem Wasserpolotraining klagte er über Herzschmerzen, begab sich in Behandlung, war aber zum Zeitpunkt des Todes schon wieder zu Hause und auf dem Wege der Besserung.
"Thank you all so much for your messages of condolence, sadness and shock over the passing of Andrea. We don't wish to go into too much detail at this time, but we must let you all know that he was taken from us due to an underlying heart condition that we didn't know existed. Andrea was a keen water polo player and complained of some heart pains after training, so sought professional advice the following day and seemed to be recovering well at home, but was taken from us by the same affliction on the evening of Thursday 11th September. His wife and family wanted all Crystal Fighters fans to know that he absolutely loved playing for you all, and I want to thank you all for loving him back for it. Peace to you all at this difficult time."